Image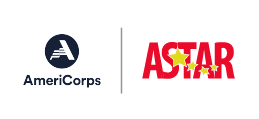 ASTAR (Appalachian Service Through Action and Resources) is a Maryland AmeriCorps program. ASTAR provides direct, substantive services through our partnering programs in Maryland.  AmeriCorps members provide direct service to build capacity within the agencies they serve. Service includes, but is not limited to, educational programming, field trips, campus, outreach, health and wellness, drug awareness, senior programming, food pantries, and community gardens. 
The ASTAR program is managed through a partnership with Frostburg State University, University System of Maryland at Hagerstown, the Maryland Governor's Office of Service and Volunteerism, and AmeriCorps. The ASTAR program is a statewide national service program.
Twenty-five site partnerships in the four-county region of Western Maryland sponsor AmeriCorps positions. To learn more about ASTAR, please contact Lisa Clark, ASTAR Director, at 301-697-3359.
After-School & Summer PALS Program at USMH
The focus of these programs is to expose Washington County students to required curriculum while in school in addition to expanding their learning through a variety of activities ranging from literacy, to technology and STEAM.
After-School Program:
More details to come...
Summer Program:
Fifty (50) children ages 4-6 will participate in six-week summer program hosting 3 classrooms with each classroom led by two teacher candidates. In addition to offering daily meals for the participants and their siblings, the classrooms are supported by two (2) teacher candidates with a focus on literacy and STEAM. Teacher candidates have the opportunity to practice and develop their classroom management skills, lesson planning, and student/teacher and parent/teacher relationships
Summer 2023 will mark a decade of providing the Summer PALS program in Washington County!