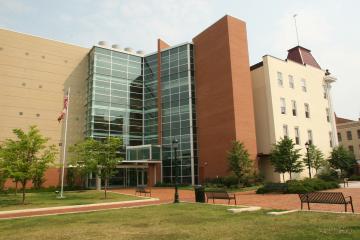 History
Students of USMH study within a former landmark of  Hagerstown, MD, with a longstanding and proud history. The facility is located in the renovated Baldwin Complex in downtown Hagerstown. The original building was built in 1790 as the Globe Tavern. It later became the Baldwin House Hotel and eventually was home to Leiter's Department Store, which was purchased by Routzahn's Department Store. The complex had been vacated since the 1980s and was in disrepair when the State purchased it and began renovation in 2001. The original structure was renovated and maintains the Italianate style. This section of the facility provides office space in what were once hotel rooms. A contemporary addition allows space for state-of-the-art classrooms and computer labs.
The completed renovation with the addition is 77,000 square feet. It boasts 44 offices, 22 classrooms, four interactive video network (IVN) classrooms, six computer labs, two nursing labs and a library/media center.USMH opened in January 2005 with three universities offering seven undergraduate and five graduate programs.
Renovation
The Globe Tavern occupied the site where the University System of Maryland at Hagerstown (USMH) now stands. Due to its good location along the National Pike, now referred to as U.S. Route 40, The Globe was a popular inn, and hosted some famous guests, most notably our first president, George Washington.
As Hagerstown grew, The Globe Tavern was demolished, and a new, more spacious hotel, The Washington House, was built. The four-story Washington House dominated the Hagerstown skyline for 23 years and eventually was demolished in the Civil War era. After the Washington House's demise, the Baldwin house was built and is now part of the current USMH building.
Built in 1880, the Baldwin House served as a grand hotel with many new and modern amenities for its guests including a large theater called the Academy of Music. Many guests stayed in its spacious and well decorated rooms, and throughout the twentieth century it served many functions.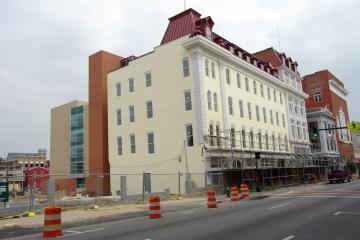 In the 1990s, the building had fallen from its glory and many wondered what would come of the facility. The University System of Maryland submitted a proposal to house its new higher education center in the building and the proposal was accepted. The old Baldwin House was to be beautifully restored and transformed into a new home for higher education.
Combining modern with old world design, the current building is an architectural feat. With its majestic five-story windows and its open floor plan, the modern addition is visually astounding, and the original sections have been restored with historical accuracy and grandeur. The USMH center is an architectural achievement in downtown Hagerstown.
Excerpted from, "The Baldwin Story," by Alan N. Clingan