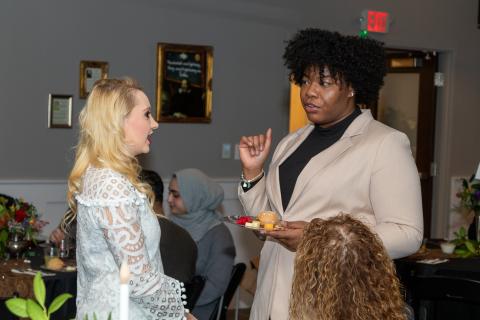 The University System of Maryland at Hagerstown (USMH) held its annual Elizabethtowne Feaste and Frolic gala on Friday, December 2. The event was held at USMH's Hospitality Center on West Washington Street which houses the University of Maryland at Eastern Shore's Hospitality & Tourism Management bachelor's program.
The event raised more than $43,000 for scholarships through donations from local businesses, foundations, and community members. The Feaste and Frolic is just one of the many fundraising events USMH holds each year benefitting students to ease the financial burden of higher education.
During the program, Interim Executive Director Dr. Lawrence Weill welcomed the audience, discussed the plentiful opportunities that lay ahead for the organization, and shared a video of the scholarship recipients. In the video, awardees expressed appreciation to donors and acknowledged the impact the scholarship funds had on their educational path. At the conclusion of the touching video, Dr. Weill recognized the scholarship awardees in attendance who received a roar of applause from attendees. For the 2022-2023 academic year, a total of 17 students were awarded scholarships in the amount of $3,000 each.
Guests enjoyed entertainment from local musicians flute and guitar duo, Morgan Jenkins and Gerry Kunkle and keyboardist, Ted Raschka, as well as Queen Elizabeth I, Mary Anne Jung from History Alive, who made her rounds from table to table interacting with attendees while providing historical facts and interesting tidbits to guests as they dined. Later in the program guests listened as the Queen took the stage to announce a proclamation and knighted in absentia Dr. Joann Boughman, University System of Maryland's Senior Vice Chancellor for Academic and Student Affairs and USMH Board Member, for her years of service, dedication, and support of USM and USMH. 
View our USMH 2022 Scholarship video below: