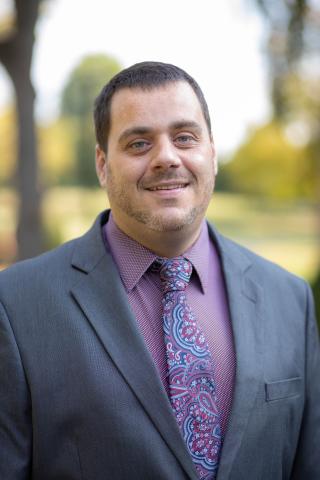 Jacob Ashby has been named the next executive director of the University System of Maryland at Hagerstown (USMH). The appointment comes after an extensive search chaired by Frostburg State University (FSU) Vice President for Student Affairs, Artie Travis, and a search committee including local business and community leaders. He will serve as the third executive director for the regional higher education center and replaces Mark Halsey who retired in July.
Dr. Ashby currently serves as the assistant dean of academic assessment and articulation at Frederick Community College (FCC). He has been employed in various roles at FCC since 2011, including a limited term position as associate vice president of the center for teaching and learning where he helped the institution navigate academic operations during the unprecedented pandemic. Dr. Ashby has taught as an adjunct instructor and a lecturer at both FCC and Hagerstown Community College (HCC).
"On behalf of the University System of Maryland, we are excited about Dr. Ashby joining USMH as its next executive director," said Ronald Nowaczyk, president of Frostburg State University (FSU), the coordinating institution for USMH. "His ties to the local community and region as well as his experience with and commitment to higher education will help USMH address the educational needs for the residents and businesses in the region."
"The system's regional higher education centers offer students an opportunity to access quality bachelor's and graduate degree programs with smaller class sizes, local access to academic support, and additional scholarships," said Ashby. "Creating the right environments for student learning and helping foster upward mobility for students is something I have dedicated my professional life to within the region. I look forward to partnering with the committed advisory board, FSU, university partners, local community leaders, and local businesses to expand educational opportunities and help students achieve their educational goals at USMH."
Dr. Ashby earned his doctorate in organizational leadership in higher education from Shenandoah University, his master's in integrated marketing communications from West Virginia University, his bachelor's in business administration and marketing from Shippensburg University. He began his education at HCC.
Dr. Ashby will officially assume his position on April 5. Lisa McCulloh, business manager, will serve as the interim until that time. Dr. Lawrence Weill served as interim executive director from August through February.
The University System of Maryland at Hagerstown (USMH) is a regional higher education center that offers upper-division-undergraduate and graduate academic programs from universities within the University System of Maryland. USMH works collaboratively to develop innovative partnerships with local community colleges, businesses and civic leaders to ensure access and affordability through a seamless and quality learning experience for students in the region.