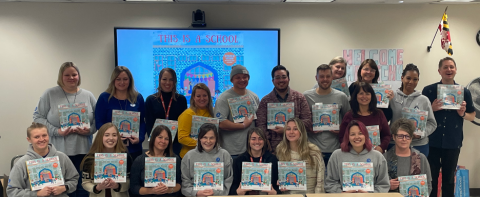 Dr. Kris McGee, an associate professor at Frostburg State University's Hagerstown Campus and the coordinator of the Master of Arts in Teaching – Elementary Program (MAT-E), hosted author John Schu on Wednesday, November 30th, 2022, at The University System of Maryland at Hagerstown's (USMH) campus.   
Mr. Schu's presentation, titled "From the Heart to The Classroom – John Schu's Best-Loved Books of 2022," included a 50-book collection of children's books hand-picked by him from 2021-2022 publications. He shared each book with great passion and enthusiasm.  All participants could easily incorporate any of these books into their classroom to promote and increase reading motivation, stamina, and growth. Everyone left the presentation with multiple books, signed by Mr. Schu. His presentation inspired all in attendance. 
Chanda Thompson, MAT-E student, shared that Mr. Schu's energy was "infectious" and wished she could bottle it up to share with her second-grade class. Another MAT-E student, Shannon Haluch, agreed with that sentiment describing Mr. Schu's presentation as "inspiring."   
Shannon went on to share, "I enjoyed that for every book he talked about he had his own story to go with it. He was able to turn children's books relatable regardless of who they are. He made connections to books I never dreamed I could connect to. I was excited about my classroom library, but he turned that excitement into pure joy and happiness. I cannot wait to share the books, experiences, and connections with my students in the future. Mr. Schu is a great role model for kids and adults." 
Mr. Schu shared a powerful message to the MAT-E pre-service teacher candidates who plan to have a career in education. He compared the world of teaching to musical theatre in that being a teacher is like being on stage and, like actors, educators get to share their heart with the audience: their students. He encouraged the attendees to find what brings them true joy so that as educators they have the capacity to show up in the classroom ready to share their hearts with their students. 
Dr. McGee was able to fund this presentation by allocating money from a grant she received from the Fletcher Foundation in Hagerstown.  
John Schu has made a career out of advocating for the people and things he cares about most: kids, books, and the people who connect them. He is the children's librarian for Bookelicious and the author of This Is a School (Candlewick, 2022) illustrated by Veronica Miller Jamison, This Is a Story (Candlewick, 2023) illustrated by Caldecott Honor artist Lauren Castillo, and The Gift of Story: Exploring the Affective Side of the Reading Life (Stenhouse, 2022). He's currently revising Louder Than Hunger, a novel-in-verse for middle school readers. John Schu lives in Naperville, IL.