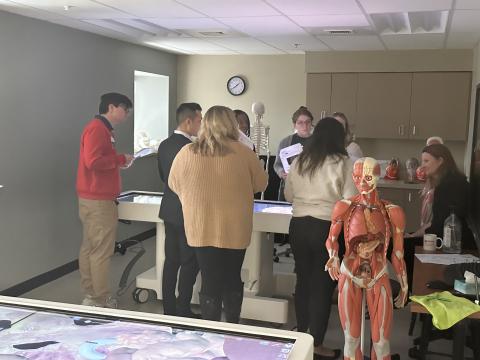 Faculty and staff from Frostburg State University's Physician Assistant (M.M.S) program welcomed the 2023 cohort students to an open house held Tuesday, February 7 at the University System of Maryland at Hagerstown's Agnita M. Stine Schreiber Health Sciences Center.
Activities planned throughout the afternoon provided students with the opportunity to hear from and speak with several P.A. program faculty members as well as currently enrolled P.A. students.  The 2023 cohort students also took part in station rotations experiencing the Anatomage table (life-size interactive digital cadavers), Sim Man "Fred" (advanced patient simulator mannequin) as well as hearing from USMH representatives who discussed scholarship and student housing opportunities.
During Q&A sessions, the 2023 cohort had the opportunity to ask questions and receive guidance on a variety of topics.  As the P.A. program is very rigorous in nature, faculty took time to discuss mental health strategies for the students and provide them with resources and methods to balance their life and studies during the program.
The 2023 cohort consists of 25 students who were selected out of more than 700 applicants and will begin their two-year program in May.  To learn more about the Physician Assistant (M.M.S) program, visit https://hagerstown.usmd.edu/programs-universities/programs/physician-assistant-mms.